Contact Management System

To give you some idea of the sort of work the Software and Database Department produces, we describe the Contact Management Database in some detail.
4G Contact Management allows you to:
Record your dealings with Customers and Suppliers
Send e-mail and form letters
Keep track of the time you spend with each client
Store reminders which are displayed on the required day
Show a map of the Contact's Location (Internet Connection required)
Show Contacts by Contact Group
Import Contact Data from Outlook
A full working copy is available for £85 + postage & VAT (£100). If you would like to try before you buy, a version with a 1 month licence is available for £7.50 + VAT (£8.22). If you subsequently wish to upgrade it, you can buy a full licence for £90 + VAT (£105.75).
Software features (screenshots)
Conclusion
There are many additional features in 4G Contacts that we have not had room to mention. If you would like further details and a demonstration, please contact us.
The software can be easily modified for your business needs and 4G Technology would be happy to quote for any additional changes you would like to see.

Prices exclude VAT where applicable
Working wiser?
Keeping in touch with clients can be less costly and time consuming with the right tools.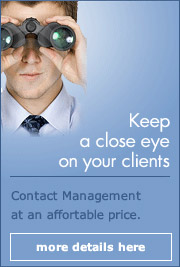 We can combine our Web departments "manage your own site" Content Management System with other parts of your business