Contact Management System

A full working copy is available for £85 + postage & VAT (£100). If you would like to try before you buy, a version with a 1 month licence is available for £7.50 + VAT (£8.22). If you subsequently wish to upgrade it, you can buy a full licence for £90 + VAT (£105.75).
..... See a close up of the Reminder screen

The Reminder Screen

This screen shows current reminders. From here you can also add a new reminder or delete a reminder. When the work detailed on the reminder is complete, Job Complete can be ticked. When the Hide Completed button is clicked, only the uncompleted reminders will show.
..... See a close up of the Contact Search screen

Contact Search

This form shows a summary of all your contacts and has sophisticated sorting and filtering features. Contacts can be sorted by Firstname, Surname, Company, Profession or Postcode. In addition, you can filter the list. So to find everyone who lives in North London, put N into the Postcode box and click Search. When you have found your contact, click the left hand grey bar to select.
..... See a close up of the Contact Details screen

Contact Details

To see full details of the contact, click the Contact Details Button.Full Contact Details are displayed. View Map will produce a map of their location based on their postcode.
..... See a close up of the View / Add Letters screen

View / Add Letters

This screen allows you to send form (mailmerge) letters or e-mails to anyone you select. You can type the letters yourself and they can use a standard format or Microsoft Word Templates.
..... See a close up of the Contact History screen

Contact History

This is where you record full details of all contact you have had with that client. If you telephone the client, a timer is automatically started to record the length of the call. The contact can be dialled automatically via the computer modem. A full history can be printed of all contacts made with the client and their duration.
Prices exclude VAT where applicable
Working wiser?
Keeping in touch with clients can be less costly and time consuming with the right tools.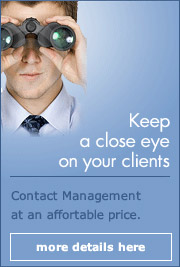 We can combine our Web departments "manage your own site" Content Management System with other parts of your business