Contact Management System

Extras Options
A full working copy is available for £85 + postage & VAT (£100). If you would like to try before you buy, a version with a 1 month licence is available for £7.50 + VAT (£8.22). If you subsequently wish to upgrade it, you can buy a full licence for £90 + VAT (£105.75).
Prices exclude VAT where applicable
Working wiser?
Keeping in touch with clients can be less costly and time consuming with the right tools.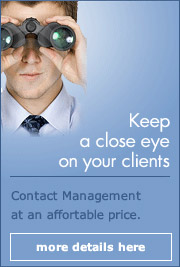 We can combine our Web departments "manage your own site" Content Management System with other parts of your business