£9.99 a month website

A new site : YourSiteMaker
Now everyone can have their own website, it couldn't be easier…
No hosting or complicated software installation just sign up and off you go. Your site will be LIVE in minutes. Choose from a range of templates and designs and select extra functions including an online shop.
The browser based system means that you can manage your site via any Internet browser linked to the Internet!
Features:
Simple & easy to use
No software installation
Extensive help guide
A website that you can update yourself
Add, edit and delete pages
(see our content and category adding services here)
Choose from a range of professional templates
Add your own files and images
Built in blog, photo gallery and message forum
Also...
free hosting and domain name service
Our own Content Management System, we are not a reseller
A search engine friendly site with a professional appearance
Ready for you to add content via a "Microsoft Word" style editor
Training, for a fee, and help areas to get you started
So easy any staff member can learn to add content
Priced to compete with small business sites available elsewhere
Improve search engine placement with fresh updated content
Complete support available, if needed
Price: £9.99 a month

A new online store: YourSiteMaker
An online shop enables you to sell your products on your website.
The system is very easy to administrate and very friendly for your customers to use, with easy to remember URLS and extensive search engine features as standard.
Price: £14.99 a month
Prices exclude VAT where applicable and are web offers (meetings and consultations additional)
Content Management?
A content management system (CMS) allows you to change the content on your website yourself without the help of a web designer.
CMS Features
A content managed system for a great price
Manage your own website content
Simple, easy to use system
Add, edit and delete pages
As easy as using Microsoft Word
Comprehensive help guide
Get content added PAYG...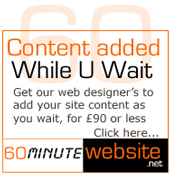 More comprehensive system, with a hand made design...